Om Sri Ganesaya Namah
Sri Gurucharanaaravindabhyam Namah
Sri Gurupavanapuraadheesaya Namah
Bhaktaranjini – A Commentary on Srimad Narayaneeyam
<![if !vml]>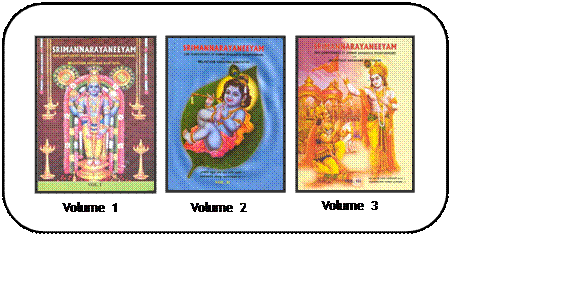 <![endif]>Srimad Narayaneeyam is an immortal devotional hymn extolling the glory of Lord Guruvayoorappan, composed by Melpathur Narayana Bhattatiri, a great scholar-devotee who lived in Kerala in the 16th-17th centuries.
Bhaktaranjini, a commentary on Srimad Narayaneeyam, was published in the 1930s, authored by Brahmasri Mahopadhyaya K.G. Vancheswara Sastry and Brahmasri Mahopadhyaya R. Viswanatha Sastry. This commentary was in Malayalam.
In 2005, an English version of the commentary was published. This was authored by the late Shri K.V Gopalakrishna, son of Vancheswara Sastry, Shri G. Sankaran, the late Smt. Parvati Sankaran and Shri T.P Sivasubramani. Shri. S.N Sastri who had authored a commentary on Narayaneeyam earlier, has edited the work. A charitable trust – aptly named the Bhaktaranjini Trust – handles the publication of the book.
The 2nd edition of the book was published in 2010 and was sold out in 2021. In 2023, a limited reprint of the 2nd edition has been done.
If you are interested in buying the book, click here.
Read more about…
Extracts from the book:
<![if !vml]>

<![endif]>  Foreword            – Written by Pujyasri Swami Dayananda Saraswati.
<![if !vml]>

<![endif]>  Dasakam 15        – The message of Kapila.
<![if !vml]>

<![endif]>  Dasakam 45        - Balakreeda – Krishna's childhood pranks.
<![if !vml]>

<![endif]>  Dasakam 91        - Greatness of Bhakti and Bhagavata Dharma.
<![if !vml]>

<![endif]>  Dasakam 93        - The Exposition of Learning from Preceptors.
<![if !vml]>

<![endif]>  The list of abbreviations that are used in the book.
Book Review
<![if !vml]>

<![endif]>  Review published in the Hindu, June 14th, 2005
For more details, please contact: Email          webmaster@narayaneeyam.com
                                                            Landline            +91-(080)-2351 0378
Cellphone           +91-98452 96148.
Last updated: February 23, 2023.